Featured Readers
June 11th, 2019
Julie Bruck
Ryan Warren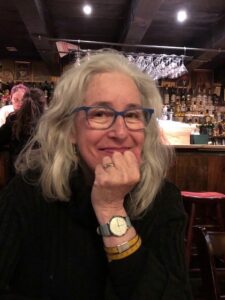 JULIE BRUCK is a Canadian poet and writer who has lived in San Francisco since 1997. Her newest collection of poems is How to Avoid Huge Ships (Brick Books, 2018). Her third book, Monkey Ranch (Brick Books, 2012) received Canada's Governor General's Award for poetry. Recent work has appeared in The New Yorker, The Southampton Review, Plume Poetry, Poetry Daily, The Academy of American Poets Poem-a-Day, and The Malahat Review. Julie teaches at The Writing Salon in San Francisco, and also offers private workshops. She can often be found in Golden Gate Park, watching one lone wild turkey chase his own reflection in the wheel rims of parked luxury cars. http://www.juliebruck.com/
WAREHOUSE STORE
There was a moment, cruising aisles of memory foam,
eight-packs of spatulas, twin gallons of Joy or Dawn cuffed
together with hard plastic rings. Passing edifices of toilet
tissue or household towels, comparing prices per sheet
(impossible), and trying (unsuccessfully) to hoist a ream
of printer paper into my cart. A moment among others
making their own anxious investments in the future:
a ribcage-worth of rack of lamb, a thousand Calcium plus
Vitamin D caplets, blister-paks of Q-Tips or reflux medicine,
vats of Worcestershire sauce and motor oil, tampons
to see young women through to menopause, and a pallet
of condoms for the priapic planning to stay that way.
A moment when I thought of my friend Louise, who
loves tulips when they're droopy, past their prime.
Who's just been told to measure her future in months.
A moment that could have been a rebuke to those of us
still swarming the jerry-built warehouse like picnic ants
seeking sweeter deals on bulk batteries and bottled
juice—on too much everything to stock basements
for eternity—became instead a rush of tenderness
for all the shoppers steering towards the registers,
waving their receipts for release to the noonday sun.
Each face instinctively raised for a long second, to that
hot star we're warned is lethal since it feels so good.
ELEVEN
Her classmate's name really was Eleven, though
I'd argued with my second-grader that surely it was
Evelyn. Evelyn of the itchy wool coats, Evelyn of
the drawer sachets, Evelyn of a certain age, way
past eleven. With Kleenex stowed at her breast,
inside her twin set. Evelyn of skirts over the knee,
and old parents to whom she was betrothed,
to whom her days were intended. Evelyn, who
passed gas when she sat for neighbors' children.
Who knit her own dresses in mustard or plum.
Evelyn, whose sensible shoes were always polished,
stockings in a shade of leg, moving purposefully
through the dim rooms of her parents' home, past
the ancestral oil portraits, tea sets in the cabinet,
cut-glass candy dishes and always, the sweet,
sweet smell of rotting apples in that house,
where it was always October or November.
Evelyn of the cameo brooch pinned over what
must have been breasts, though who saw Evelyn's
breasts? When the last parent died, she sold the house,
and took a small apartment just for Evelyn,
and grew old, moved to Ottawa to live with
a niece and nephew. Oh Evelyn, who grew
African Violets, and whose cheek bore a similar,
translucent fur, what of your small, thin body
for all those years, unseen, barely touched
after your first moments on earth? Composed
Evelyn, sometimes even playful Evelyn, whose
name wasn't really Evelyn. And definitely not
Eleven, whose brothers are Nine and Four.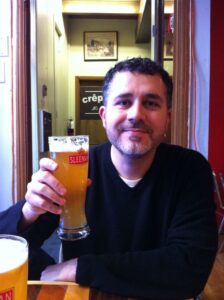 Ryan Warren lives with his family in the Seattle, WA U.S. and was founding director of the Coastside Poetry reading series in Half Moon Bay, CA.
He is a 2017 Forward Prize for Poetry nominee, a 2016 Pushcart and Best of the Net nominee, and his poetry has previously appeared in numerous journals including Amaryllis, California Quarterly, Verse-Virtual, Dime Show Review, Firefly Magazine, Page & Spine, Poetry Breakfast, Wilderness House Literary Review, Scarlet Leaf Review, and the anthology, Carry the Light.
Mustard
I was the kind
who would be stopped
by Parrish colored clouds,
the rounded light of Vermeer,
the rendering of drapery.
Was soothed by the sound of water,
the scent of bergamot.
I even relished the pulling
of a fountain pen
from inside a jacket pocket.
But I've been whetted a bit.
Some loss is a stone.
So a measure, now, of silence.
The time to walk in trees.
I find myself laid newly low
by the terrible hardness of human hearts.
I admire spiders more.
I grow irritable with newness.
And Pollack has crept up on me,
those wiry sinews,
brittle bracelets of poured paint.
His declaration of independence
the unexpected texture,
thick at times as a coiled hose.
No pitcher. No virginal. No fruit.
It's strange what can carry you.
How I now crave
the taste of mustard.
– Published in Verse-Virtual, September 2017
Special Relativity
What The Math Teaches (1):
As I move away from the Earth,
time accelerates.
The now of the little clock
on my weightless wrist
ticks faster than the one I leave behind
on my daughter's nightstand.
The greater my proximity
to mass, the more time slows.
Perhaps this is why
I am always seeking mountains.
What The Buddha Teaches:
This teacup is already broken
and so I should rejoice.j
What The Math Teaches (2):
Time is bound to motion.
Time bends as we move.
Move away, move forward
from sufficient distance
and I arc the trajectory of my now
toward your past or your future.
Simultaneous is only for us,
together, in this room.
I cannot know the content
of this clicking carousel,
so I must beware,
the sleepless nights of turning
over what is not my now,
the Kodachrome vortex
of memory.
What The Mountain Teaches:
Over time
even mountains fold.
What Fatherhood Teaches:
I should have tried to harder
to remember more math:
she was born
and in the next second
I had to show her
the division of fractions.
Time is bound to motion.
Months can last for decades.
Decades can wash past
like a paper boat.
Also, she is a teacup.
She may already be broken.
– Published in Riggwelter, August 2018