Featured Readers
July 9th, 2019
Sandra Anfang
Ben Gucciardi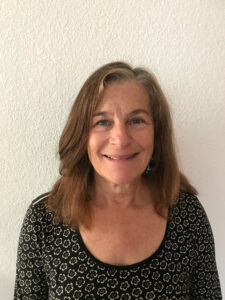 Sandra Anfang is a poet, teacher, and visual artist. Her poems have appeared in numerous journals, including San Francisco Peace and Hope, Unbroken Literary Journal, Rattle, and Spillway. Her chapbook, Looking Glass Heart, was published by Finishing Line Press in 2016. Road Worrier: Poems of the Inner and Outer Landscape (Finishing Line Press, 2018) followed. A full-length collection, Xylem Highway, was released in March, 2019 from Main Street Rag. Sandra was nominated for a Best Short Fictions award and a Pushcart Prize. She is founder of the monthly series, Rivertown Poets, in Petaluma, California, and a California Poet/Teacher in the Schools. To write, for her, is to breathe.
May Madness
Hooded Orioles shriek in the trees.
Over the fence, my ninety-year-old neighbor
fills a cylinder with fabric scraps
a three-foot drum with seed.
What drama's unfolding here—
jealousy over a handsome suitor
a contest of beaks and talons—
communal clash against a common foe?
I water the nascent sunflower sprouts
shoot my digger cat the evil eye;
tiny leaves like deer heads poke up
in striped-seed helmets.
Wild strawberries carpet the rose beds
first ones in seven years.
I stop to browse—
bow to the goddess of rain.
The stump we cut two years ago
sports a white mustache
feathered fungi
fringed like a buckskin vest.
Box-elder beetles crowd the path
seep from crevices and rocks
art deco bugs that make me smile
abuzz with the work of procreation.
Oh, to die in the wild garden
where tri-colored roses link arm to arm
absorbed by their chaotic lives
heedless of the hands that tend them.
Six Concrete Things Before Breakfast
The study fills with pale gray light
culled by mourning doves
from the thatch of fog
that fills the mountain's cleft.
Solitude unspools,
fills the silence like creek-flow
the old tabby twitches in sleep, pretzels
the piston of her body.
The black one climbs my leg again
pleads for wet food
turns tail on the brimming bowl
signs a question mark in the air.
Maybe it's attention she craves
the shadow child
in the orphanage
who trails me everywhere.
I scoop them up—one in each hand
pull them into my lap
careful to keep some distance
lest a war of teeth and claws erupt.
I slide back to the innocent years
when the world was new
each day a bowl of slip
my fingers forming fresh clay
the baby patrolling the kitchen floor
in beige pumps
stolen from my closet
the opulence of his nakedness.
Yellow light fills the room
like a picture-book sun.
I can almost make out
smiling eyes, an upturned mouth
a rumor of church bells
sieving through the chorus of
red-wings floating up from the yard
ushers at heaven's gate.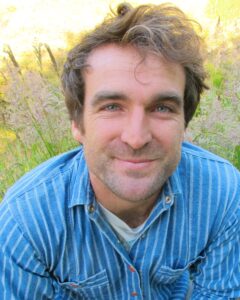 Benjamin Gucciardi's poems have appeared in Best New Poets 2018, Forklift Ohio, Indiana Review, Orion Magazine, RHINO, Spillway, and other journals. He is a winner of Iron Horse Literary Review's 2019 Trifecta Poetry prize, the Milton Kessler Memorial Prize from Harpur Palate, a Dorothy Sargent Rosenberg prize and contests from The Maine Review and The Santa Ana River Review. He works with refugee and immigrant youth in Oakland, California through Soccer Without Borders, an organization he founded in 2006.
Type Two
Five times a day, I prick my finger
and ask my blood about its failure.
Out of its cage,
it wants to discuss its better cages:
How, before it was mine, it lived inside
a python near Varanasi—
the thrill of rushing
when muscle snaps a rabbit's spine.
How it wants to paint a self-portrait
as the Ganges river—
in the foreground, a woman in a yellow sari
cleanses her son's limp body, his skin
the color of the river, the river
the color of her eyes.
That's how holy I am,
it says, as I turn the meter off,
trash the strip and choose a new tract
to stick the insulin in.
The python uncoils from its catch, slinks
beneath a rusty harrow.
The woman weaves marigolds
in her son's wet hair,
climbs beside him
on the bamboo board.
The current ferries them off the canvas, stretched
over blue tile. Marigolds
spill into my hamper, crimson petals
on the bathroom floor.
From Ruminate Magazine and Best New Poets
The Hermitage at Laurel Dell
Of a life playing Bach for moss
on a swollen cello,
lying for days
in a field of milkmaids,
undressing in fog to translate Jeffers—
wolle, entfernung, stein, Wahrheit,
only six rotted railroad ties remain
and a few microfiche slides
of Emil Barth's meticulous cursive
filling the page— A buck,
plus what's foraged, feeds you well enough,
he wrote in his journal,
March eight, nineteen sixteen,
but a boar, salted and cured, is divine.
When the poets came to visit,
he didn't tell them he was unhappy,
nearly always sick.
He toasted with plum mead,
laughed at stories of their trysts.
So what, touch haunts you,
he told himself when they'd gone,
drinking from the spring,
scrubbing his doubt with clear water,
the bombs would fall, anyway.
From Harpur Palate
Attachments area