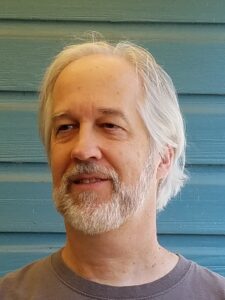 Jeffrey Kingman lives by the Napa River in Vallejo, California. His poetry collection, BEYOND THAT HILL I GATHER, was published by Finishing Line Press in June of 2021. His poetry chapbook, ON A ROAD, was published by Finishing Line Press in December of 2019. He is the winner of the 2018 Eyelands Book Award for an unpublished poetry book, a finalist in the 2018 Hillary Gravendyk Prize book competition, and a finalist in the 2022 Prime Number Magazine Award for Poetry. He has poems published in PANK, Clackamas Literary Review, Visitant, and others. Jeffrey is a copy editor at Omnidawn Publishing. He has a Master's degree in Music Composition and has been playing drums in rock bands most of his life.
Jeffrey Kingman
(published in Visitant, 2020)
The Way Back Home: Muriel Spark
1.
why and where a tinsel coronet
chosen queen of poetry
so nice to have one's hair stroked by a teacher
she submerges her telephone his words moisten
faraway languages spill from her unheld hand
alone she wanders south africa
what a long walk and with a baby robin to feed
the earth chafes and the baby's beak so sharp
a young woman out lost must test each thorn
she looks down through the parasol trees
wet swooshing incessant spray
leopards are harmless it's the yellow oxalis
chases her home
2.
now it's just front porch azaleas
the sun must have set and the school closed
even the walls evaporating
only voices left
she must form the words dryly
yes her hair was nice
                                the old teacher said
Jeffrey Kingman
(published in the tiny, 2022)
Love Through a Window
Slight movement outside the window
my pulse quickens.
Dusk falling, can't get the shape
a squirrel on a branch maybe, or vampire.
In the morning I always want an egg.
For lunch, figs.
Rude to ring the bell at dinner.
Death unscrews the door.
By that time
the asparagus will have curled up.
Fleshy pleasures tenuate.
Nosferatu's skin is papery.
Bite me and I'll give you a hickey
risk everything.
Make love to a shape
and the shape shapes you.
Is it a triangle if one side is curved?
Sweep me off my feet.
Kiss a bat
it turns into a dark prince.
I kiss the squirrel
and it tries to love me.
But it isn't easy.