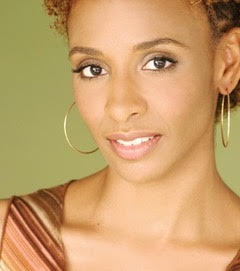 Venus earned her MFA in poetry from Mills College and her BA in business communications from The University of Akron. She's a board member for Poetry Center San Jose, volunteers for Santa Clara Read and promotes literacy. This accomplished actress opened for Def Poetry on Broadway, and was awarded "Most Inspiring Solo Performance" in 2012, by the Los Angeles Women's Theatre Festival. Her short play "Race & War: an awkward conversation" won the Ardella Mills Prize for creative non-fiction and was a featured play at the 2015 Tampa Bay Theatre Festival. Her poems have been published in Poet Lore, UK's X Magazine, SpokenVizions and anthologies including, "How I Freed My Soul", "A Time to Rhyme" and "A Generation Defining Itself." She's an Austin International poetry slam finalist and former MTV correspondent. 
Her latest book "Lyrics for Langston" was endorsed by the Langston Hughes Family museum and she's the author of "She Rose: on a journey from girl to Goddess". She's interested in authenticity, diversity and truth. She's known for her tributes of past and present day heroes and sheroes and facilitates improv and writing workshops. She searches for solutions, and promotes not only peace but empowerment. Her work can be found on Amazon, iTunes and at www.venusjones.com. One of her favorite quotes is by Alice Walker – "The most common way people give up their power is by thinking they don't have any."
Amen (for female teachers and preachers)
Let me hear you say "Amen!"
Let me hear it again.
See, a man destroyed my home when he left a woman alone.
A man made me groan then he changed his tone.
A man ripped off my shirt and groped me in a crowd.
A man yelled, "Look at her stupid ass!" and laughed real loud.
He didn't see me as a sister, a friend, or a mother.
Oh, no. I was simply the foe, a female, a woman, a hoe.
A man made me feel like I couldn't say, "No!"
Misogynist is the title of these artists who find instant fame.
Simply by calling a female outside her name.
But this type of music is not banned in your store.
Why? Mama bought it for A man.
Somebody say, "Amen!"
And the CD case is on her daughter's bedroom floor.
Because as long as a woman sees herself as less,
A man doesn't have to be more.
Somebody said we need a woman of state.
Somebody say, "A woman!"
Wait a minute…
I Timothy chapter 2 verses 11-14 is cause for debate.
Quiet as it's kept, King James was openly bisexual.
He never knew his mother and he passed on more chauvinistic than homophobic traits.
"Kings are rightly called Gods," he'd say.
"…and if you don't believe my version it is hell, you'll pay."
Well today, if you really want to see equal economic opportunity.
Sister, clean up your inner temple and help organize your community.
And can I get my brother to cherish a parental role
that's not based on your gender fate?
Could you imagine
every single man knowing how to fix his own plate?
And if your boy has a strong sense of male pride,
I say let him play with the doll and nurture the father inside.
Maybe your daughter can learn how to protect herself,
just in case, someone decides to run and hide?
That's when the violence will decrease.
Can we strive for the 22nd century at least?
Because your son's war games and toy soldiers
are played out in the West, North, East, and South!
Can I get a woman to stop raising these extreme men?
I don't want to hear of these types of men again.
For it is a woman, that we've all passed through
therefore to every woman, respect is due.
So when we say "Amen," can we all say "Awomen," too?
And may this new sense of balance be the much-needed glue?
Ok. Let us pray…
Dear Creator,
Mother and Father God of the heavens and the Earth.
May each and every one of your creations feel a sense of worth?
May harmony and balance return to our visions again?
Let it be so.
And so it is.
A woman. Amen.