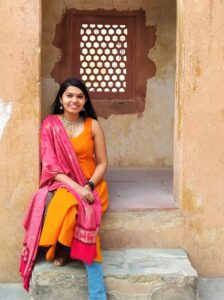 Monica Korde, a former teacher of English and French, is from India. Currently living in the San Mateo County of California, her time is dominated by community work, freelance writing and her poetry. She thrives on the local poetry open mics and also happens to be a co-host for one in the Bay Area (First Tuesday Poets Night). When she is not writing, Monica spends her time hiking, painting, taking equestrian lessons and motorcycling the back roads with her husband, all of which often makes its way back into her poetry.
Have you ever walked in the long silver rain?
Have you watched it run into creeks and cracks?
Listen. Here it comes. Big, wild rain
in spells and storms and stories and I
feel the coming of the rain inside me first.
How marvelously have I adapted to all storms
that now I can truly listen, watch it fall
on the other side of my life.
Into each little thing I pay attention to. Small, neon rain
on smooth asphalt
micro-droplets cradled in cobwebs
on the greenest blade of grass
falling off the beak of the sparrows at rest
pinpricks of water against my face, mapping
every inch of space across bodies of land and water and
flesh and ink.
Come,
join me in this conversation, with the long silver rain.
Follow the song of the river newly born.
Let it remind you of how loved you are.
Be here. Ready when you are—
to feel the rain outside, the quiet within.
-Monica Korde
Not

A Woman Poem.
When you forage for poppies
remember how fragile they are,
carry a basket and a bucket
of water. Take some newspapers
to keep them safe.
To protect them from
wind and sun. Leave an opening
for the scarlet heads, and
allow them to breathe
fresh air. The green stems
leave a lactiferous trail, and
crumbs of moist
earth. To keep them alive longer
burn the ends,
put the petioles
on fire. The flowers are
meek survivors. They will not speak
or, protest. They will live another day, and call it
life.
-Monica Korde