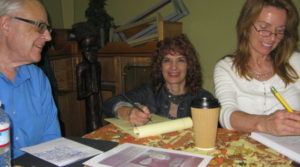 Magdalena Montagne (www.poetrycirclewithmagdalena.com) has been leading poetry writing workshops for almost twenty years, most recently in conjunction with libraries in Santa Cruz and Santa Clara Counties (2011-Present); at The Capitola Book Café (2009-2014) and Borders Bookstore, Sand City (2000-2008). She produced and hosted the Poets' Circle Poetry Reading Series at the Watsonville Public Library monthly from 2012–2015 and at the request of the librarians there, has resurrected the series in 2018 as a quarterly event. 
Magdalena has been facilitating poetry writing workshops for seniors in assisted living facilities in Santa Cruz, Monterey and Santa Clara Counties through her WisdomVerseSM program since 2012, and has been a guest workshop facilitator for several Santa Cruz County area nonprofits including the Homeless Services Center, CASA of Santa Cruz, Monarch Services (formerly Women's Crisis Support), and WomanCARE.
Magdalena also currently teaches memoir writing and editing workshops at her home in Corralitos, and offers classes on various aspects of writing practice and craft at the Campbell and Los Gatos Public Libraries and at the Catamaran Center for the Literary Arts at the Tannery Arts Center in Santa Cruz.
She has taught with California Poets in the Schools in the Santa Cruz City, Pajaro Valley and Siskiyou County Unified School districts, and has also worked in various editorial capacities on the California Poets in the Schools annual anthology of statewide student poems, including field editor and assistant editor. In 2019 she will serve as executive editor for the anthology. She has also served as the County Coordinator for the Poetry Out Loud National Recitation Contest for high school students in Santa Cruz County since 2014, working closely with Arts Council Santa Cruz County and in 2018 with the Santa Cruz County Office of Education.
Magdalena has received grants from Arts Council Santa Cruz County and from Poets & Writers, Inc. to conduct workshops and for professional development. She has studied with esteemed poets including Ellen Bass, Jericho Brown, Joseph Millar, Dorianne Laux, Robert Bly, Sharon Olds, Robert Hass, Al Young, Deborah Digges, Maude Meehan, and Deena Metzger.
Magdalena has read her work for the Central Coast Poetry Show; at Poet/Speak at the Santa Cruz Library; Flor y canto and In Celebration of the Muse at Cabrillo College; at the Community Reading Series at the Porter Library; and at publication celebrations for Porter Gulch Review. Her poetry has been published in several local literary journals including the Porter Gulch Review, Monterey Poetry Review and California Poets in the Schools statewide anthologies.  Her first book, Earth, My Witness, will be published next year by Many Names Press.
Magdalena volunteered for the History Publications Committee at the McPherson Center at the Museum of Art and History in Santa Cruz from October 2016 through December 2017. She also served as a member of the Santa Cruz Alliance for Arts Education.
Where Sorrow Lives
Sorrow lives in my mother's kitchen
polished clean
scrubbed with the force of a woman
who is wounded and fighting
with all her might.
Sorrow lives
between the matching Lenox china
and the freshly pressed linens.
Let me lie down with this sorrow
her prayer.
Sorrow lives in the basement
where my father labored
with the skill saw, hammer and nails.
The time he lopped off a finger
sorrow sang.
But usually she hummed gently in the background
through the leaves of autumn swaying
radiating like the ping pinging of the sideboard heater
snowy winters.
Sorrow lives in the ancient apple trees in the yard
where even the blood red
of the gladiolas my father planted
could not spirit it away.
Or obscure the history of the man who groomed the horses
who hanged himself finally from the rafters of the barn
where the ponies stood
ready to warm him
with breath
fresh with the hay he had just offered.
Sorrow lives in the church
we visited on Sundays.
At the altar
with the statue of Jesus.
In the rusty nails straight through the hands and feet
and the cold tears shed
at the crucifixion
when he felt abandoned by his own Father.
Sorrow lives quietly
for three days
in the tomb
and rises again
Spreading like wildfire
smoke and ashes and dust
in our mouths
soundless and wordless
in what we cannot say
sorrow lives.
And she's in my sisters
behind their eyes and the crook of my neck
and underneath our fingernails.
In the most intimate of places.
How can we turn our backs on sorrow's seduction?
So we succumb
to her lamentations
and weeping.
She is shrouded
in a veil.
She is vain.
She is sometimes sleeping.
In my sister's
days in bed.
There she is,
sorrow.
Day after day
My sister flirts with sorrow.
Until she cannot get breath — almost loses consciousness
becomes ecstatic with sorrow.
Sorrow and my own anger
both rise.
Twin flames in a frosty glass,
a porch light dim on a starless night.
Conflagration
On Saturday mornings my father burned our garbage
at the edge of our forty acre farm.
Down by the graveyard of old bottles
of Coca Cola and Mountain Dew.
I liked to watch him work.
The deliberate strike of the match,
and then the sharp flame leapt up.
Like our German shepherd nipping at the postman's heels.
I liked how the heat curled the labels inward
so that I could see the words Millers, Budweiser and Chef-Boyardee shrivel finally.
The blaze turning crimson to indigo then yellow again
and the week's newspapers reduced to ash instantaneously.
My father seldom spoke, but for an occasional, "Stand back."
Dumbstruck, I listened, never asked a single question.
I understood this chore was solemn, unbearable.
Fighting back the wooded brush,
cutting a deep circle out of the earth
to keep us safe, contain the conflagration.
Sometimes the wind would kick up
Then smoke would snarl acrid in our faces,
the smell like burning rubber.
Burnt remnants like whirling dervishes before us.
When it became too hot to stand it any longer
I'd back away, half watching, still curious.
My father, Prometheus, with a long handled shovel
sweaty and serious, staying with it, until the last spark diminished.
He'd be out there sometimes until mid-afternoon.
Long after I'd gone inside to my room.
This was slow business, his thirst for absolution,
his labor to make us clean and whole by Sunday morning.