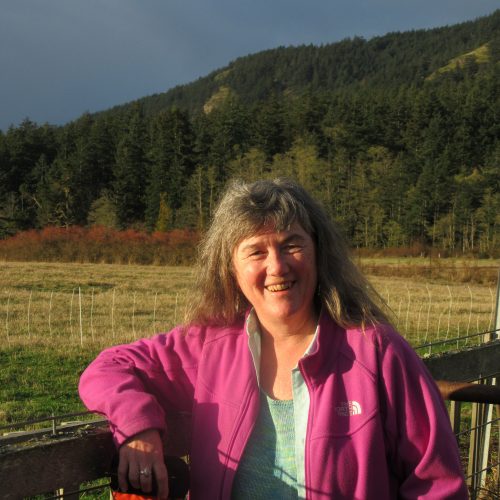 KATHLEEN McCLUNG is the author of two poetry collections, Almost the Rowboat (2013) and The Typists Play Monopoly (forthcoming in spring 2018). Her work appears widely in journals and anthologies including Mezzo Cammin, Unsplendid, Naugatuck River Review, Peacock Journal, Blue Lyra Review, Postcard Poems and Prose, Raising Lilly Ledbetter: Women Poets Occupy the Work Space and elsewhere.  Winner of the Rita Dove, Shirley McClure, and Maria W. Faust poetry prizes, she is a Pushcart and Best of the Net nominee. Her sestina "Crab Feed" was the Grand Prize winner in the Ina Coolbrith Circle's fall 2017 poetry contest.
Kathleen teaches at Skyline College, The Writing Salon, and privately. She is the creative director for Women on Writing: WOW Voices Now, an annual celebration of creative people of all ages, and serves as a contest judge for Poets & Patrons, Soul-Making Keats, and the Jane Underwood prize. She lives in San Francisco, not far from Ocean Beach, and loves watching seagulls and surfers as she drives to work along The Great Highway.   www.kathleenmcclung.com
Whistle Keepers, 1883                                                                                                                                                                                                                                                                                                      
We all drown. Before sinking into earth or water we work, raise
children, sing and weep, nurse the afflicted, repair a boat,
christen it with a woman's name. My own is lost.
Yes, yes, I am Mrs. Colburn in every sheriff's report passed
across oak desks, across years of sun and fog.
Yes, yes, we have a tale. Mrs. Ashley and I have a tale, wives
of whistle keepers posted to Año Nuevo Island, ordinary wives
of quiet men, Henry and Bernard. Solemn men, they never raised
their voices, took only a drop of rum on holidays, no fog
of drunkenness, no bellowing rage, steady—like a boat
just finished, not yet at sea.  Readers all, we four could pass
a clear evening in silence once the children slept, lost
in The Tempest or Moby Dick by lamplight as our children, lost
in their dreams, twitched in their cradles. Husbands and wives
swimming peaceably through pages, words like harpoon and magic streaming past.
Other nights, the men tended the steam whistle, raised
its blast from hot coals for ten seconds every minute into the thick weave of sky. Grand boats
had smashed to bits years before—the Sir John Franklin, the Coya—in our California fog.
We'd read the stories as schoolgirls, dreamed of gold coins glinting in fog,
trunks of soft pelts tumbling onto beaches, handsome sailors lost
among octopus on the ocean floor.             On April 8 our husbands rowed a boat
to the mainland for supplies: more leather-bound books for their wives,
fresh artichokes, strawberry jam, a real china doll for Ida, sharp razors
to scrape away their beards. We busied ourselves scrubbing pots, passed
the spring day as any other, industrious, aproned. Pelicans passed
low over our heads. We pinned wash on the line. No fog,
but forceful gales, tall waves, the baby colicky as the last rays
of sun drained from the sky. Did he know his father would be lost
in the morning? Did he know we women—friends, mothers, wives—
would witness the small boat whirling and bobbing in rough water? A boat
named Ophelia, full of food and gifts. Henry had painted our fine and only boat
before the birth of our son.  It carried our men out to thrashing open sea, past
our island of new years, past our cries, our reach.                     Wives
flow into widows every hour—some keen and howl, curl tight within caves of fog.
But we could not. We must signal, we agreed, bring a ship to us or we are lost.
First the flag. We lowered the salted cloth, spun it upside down, raised
it again, half-mast. Then the fog whistle we wives had memorized
but never used until that bright April day. We raised the alarm, beckoned
to distant boats: We have lost treasure to the sea. Find us. Do not sail past.
Gualala Winter
Keep dreaming of gray deer asleep in woods
as sheets of rain claim every living thing—
tailor bees, bracelet cones, chipmunks, hawk broods
high up in nests that sway but last.  Each wing,
leaf, stem of fern—soaked through, wet to the core—
endures these January storms we track,
evade behind our screens, our twice-locked doors.
Nervous, we curse old roofs, new leaks.  Come back.
Mend quietly what's torn. Listen to wind.
Confuse it with Pacific surf close by,
cars crossing flooded roads. Gray deer may find
logs hollowed out, may curl inside, stay mostly dry
under mossed bark. Or not.  Our sun will rise,
night storms will end. We animals open our eyes.