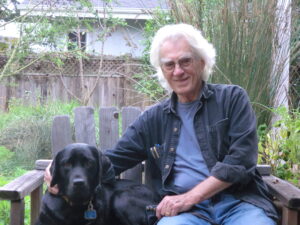 J. David Cummings is a frequent reader at Bay Area poetry venues. His poems, whether interrogating the world-historical event of the atomic bombings and their long aftermath, delving deeply into the mysteries of human psychology or remembering his own complex and difficult family history, are heart-centered, searingly honest, and layered with multiple meanings. Many of his poems' metaphors are informed by a decade spent as a theoretical physicist at Lawrence Livermore Laboratory. A visit to the Hiroshima Memorial Peace Park inspired the group of the poems that culminated in the book, Tancho, chosen to win the Ashland Poetry Press Richard Snyder Publication Prize by Alicia Ostriker in 2013. His long poem, "Praise Dust" was one of five selected for honors by the W.B. Yeats Society of New York in its 2018 annual competition. His current project is a chapbook manuscript of recent meditations: Paddington Station, Near Midnight. 
Shiv'ah
                    "Stop the words of hate."
                           —Rabbi Jeffrey Myers,
                               Tree of Life Synagogue
Until I heard the rabbi's voice,
nothing is what I seemed to feel;
then he led me into the silence,
the sorrows of six thousand years;
and he told me its living shadow
was the book that informed my soul
and said it would be fair to sit
alone, marking the silent hours
with lit candle and my strange words;
for though I could not speak their tongue,
he taught me that the grieving heart
speaks everywhere a single prayer;
and he welcomed me seven days
into their house, and called me David.
                    Shiv'ah appeared in the online journal
                    Tikkun (tikkun.org), Nov. 1 2018.
                    The poem is a remembrance of the
                    Tree of Life Synagogue mass shooting,
                    November 27, 2018 (11 dead).
Peace Memorial Park
Then I crossed Aichi Bridge and entered the park,
and it seemed that I had entered a state of grace.
No, I didn't see descending flaming emerald wings
or the Ghost's white tongues of fire. I saw children.
I saw them under cherry blossom, evergreen
and bare branch, under sunlight and brilliant blue.
I saw mothers and fathers, grandparents: love's attending.
                                              Here too I moved invisible
and was deeply glad for it, that I would disturb
no thing nor any child. —As if an unseen angel
had swept my spirit into a future I'd believed lost
or lent me an afternoon's vision that I might rejoice in
this innocence, these small bodies, these newborn souls. 

                   Surprise, surprise—
             how like the blossoms these children!
                   had I never seen spring?

                                             From Tancho, published by
                                             Ashland Poetry Press, 2013